Jerusalem conference of the "Sheva" is awarded annually, announced 13 different fields that announced as the prize winners. The committee announced 13 winners of the
Read More »
Jerusalem conference of the "Sheva" is awarded annually, announced 13 different fields that announced as the prize winners. The committee announced 13 winners of the
Read More »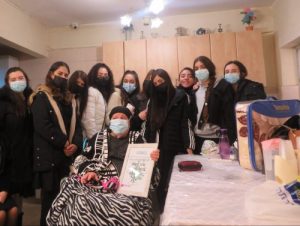 An exciting activity was held this week in Jerusalem. Chasdei Naomi collaborated between Psagot High School from the Atid network and the Eshkolot Community Center.
Read More »
Are you looking for a partner? Are you hoping that your Son or Daughter will have a decent and good marriage? A good match for
Read More »
The mayor of Bat Yam is grateful to all the volunteers in the city. Chasdei Naomis' volunteers of the Bat Yam distribution branch received certificates
Read More »
Tu Bishvat marks the planting of trees, the rejuvenating of dried fruits, and of course the birthday of the trees. These days, we are reminded
Read More »
Israeli News 13 covered the activities of the Chasdei Naomi association, a few days before the Carmel storm. The association assists the elderly, the needy,
Read More »
"Adolf Hitler's Spouse to the Prime Minister of Poland: This is not a story – this is history" This is not a story –
Read More »
Israeli News 14 reviewed the appalling conditions which the elderly have to face while living in Israel. The low allowances that the elderly receive do
Read More »
When volunteering and TV meet in the winter!
Read More »
This year, too, "Chasdei Naomi" launched a unique campaign in honor of Hanukkah! As part of the tradition, many Hanukkah parties were held for Holocaust
Read More »
Children of "Emunah" from the Ahuzat Sarah boarding school in Bnei Brak, as every year, observed the custom of the atonement with great elegance. The
Read More »
Out of an understanding of the painful reality, the establishment of a dedicated fund was announced by Lev Naomi. Lev Naomi's fund is a fund
Read More »