Our amazing volunteers at Chasdei Naomi, volunteer to pack and distribute food baskets to the  needy. each week, we will add a new "Volunteer of the Week"! Stay tuned!
"I come to volunteer because I receive something for my heart. I know that if I can give, I'll do it, because I understand how important it is to give. "
How long have you been volunteering in Chasdei Naomi?

Over a year. I worked before Covid-19, and now that i'm unemployed I have time to volunteer more.
What do you do as a volunteer?

I come once every two weeks to pack fruits and vegetables for the families. After we are done packing, we help distribute the food baskets to the families. 
How did you find Chasdei Naomi?

My friend sent a message in our mutual Whatsapp group and asked if anyone wanted to volunteer. I joined and immediately fell in love with the team. 
Tell us a little bit about yourself:

I am an Olah Chadasha from Ukraine, I made aliyah 5 years ago. I have a 4 year old daughter with special needs. That's why I didn't always have time before I was unemployed. 
"I believe that it is our duty to try hard and do as much good as we can in the world."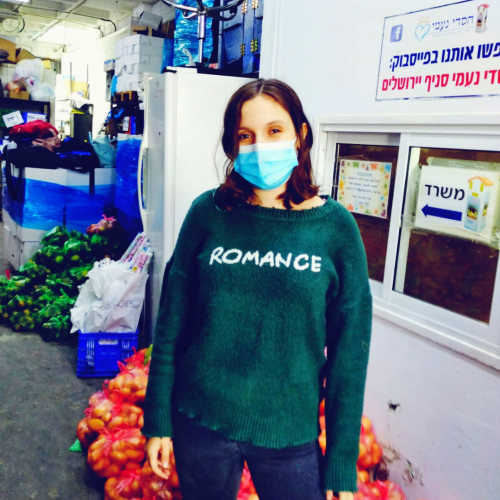 Tell us about your volunteer work at Chasdei Naomi:

It's my second time volunteering in the Chasdei Naomi branch in Jerusalem – I came with my mechina friends. We have a volunteer day every week and we were looking for a place where we can come volunteer together. Today, we were 20 volunteers here. There is a good vibe, on one hand it's fun, and on the other – we pack the goods knowing that as soon as we finish, it will all go to families in need. 
What do you do when you volunteer?

There are crates with fruit and vegetables. Our job is to fill bags with the goods and organize them for distribution. 
We would love if you could tell us about yourself:

I'm 18, from Pardes Chana-Karkur. I love volunteering and try my best to do so in every chance I get. I think that it's super important. One of the reasons that I came to my mechina is to get to know the Jerusalem society and to be actively involved.
"I feel great when I'm helping people, It feels warm in my heart"
How old are you?

I'm 11 years old.
What do you do after school?

I play the game boy, play soccer and volunteer at Chasdei Naomi.
What do you do when you volunteer for Chasdei Naomi?

My older sister and I come every day after school to help pack the fruit and vegetables and then we distribute it to the families that come.
"Personally I do everything I do from the bottom of my heart because I know and understand how important this mission is."
Where are you from?
Rehovot
What do you do as a volunteer for Chasdei Naomi?
I take packages for the needy families in Rehovot and yavne.
Why do you do this?
A strong sense of satisfaction, these families are so grateful and cherish all they get. They receive plenty of food and that brings me great joy. I understand how important it is to help. That's what satisfies me.
Volunteer the week 6/12 – Meet the accountant and lawyer – Kobi Dahan!
"First of all take care of people, then – take care of work"

What is your name?

Kobi Dahan
Occupation?

Accountant and lawyer.
Why did you choose to volunteer?

"Between work and family, it is also important to help those in need."
"Work hard and help those in need"

Profession🔉
Hydrotherapist.
Age🔉
30 years old.
How did you hear about Chasdei Naomi?🔉
I donate money to the foundation every month.
"We wanted to come and volunteer now, because of the problematic situation that we´re all in, to show that we are all in this together"

Bnei Akiva Bat Yam
‍‍‍
– Eitan Yehuda Maor-El, Uri Tavor, Sarel Sharabi, Noam Assulin, Hillel Shira Tzobel, Ziv Atia, Shaked Yemini, Talia Ben Baruch.
They were all chosen to be volunteers of the week!
Why did you come to volunteer?
"We came to volunteer at Chasdei Naomi, so that we can apply the values that we grew up on.
We are always looking for new opportunities to donate and help, and to lend a hand, because that is our character, to be unanimous for each other !!
❗