Rosh Hashanah 2022 and many Holocaust survivors, elderly people and needy families will sit around the holiday table without enough food.
Chasdei Naomi, with your support, is here to help them and to make sure that everybody will have food on their table and a big smile on their face.
Rosh Hashanah in 2022
New Year's Evening begins on Sunday, September 25.
While many people prepare for Rosh Hashanah weeks before the holiday begins by buying each other gifts, some new clothes and shopping for groceries to be prepared for the holiday.

Especially this year, the price of basic products increased and caused a difficult situation where needy families, holocaust survivors and elderly can't afford to buy themselves  proper groceries so they could eat a hot meal on the holiday season.
"I have to choose between food and medicine"-Watch the testimony of a Holocaust survivor:

Chasdei Naomi activity:
Throughout the year, Chasdei Naomi packs and distributes food baskets for people in need. Chasdei Naomi food baskets contain basic but high quality products that every person needs.
Each food package contains a wide variety of canned goods, dry products, legumes, flour, sugar, oil, fresh vegetables and fruits and way more.
We pack the food in Chasdei Naomi logistics warehouses by groups of wonderful volunteers.
Activities for Rosh Hashanah:
Every year Chasdei Naomi prepares in an optimal way for Rosh Hashanah and the holiday season. With the assistance of volunteers and donors we  pack as many food baskets as possible and make sure that the baskets even contain food that symbolizes the holiday such as wine for Kiddush, honey, dates, fresh fruits and vegetables. The volunteers who help us at  the logistics warehouses get an explanation of how to create the ideal food package for the holiday. The food packages that go to our distribution points.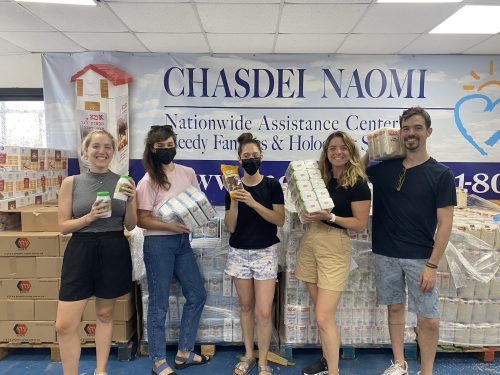 Support Chasdei Naomi's Rosh Hashanah project:
All of our activities are possible thanks to the donations of the public, Each donation gets us closer to another basket of food, which will help another person not to be hungry during the holiday.
You can support and donate to this project by clicking here.